A few weeks ago, Technigo's UX Design students got to work with Feeder - a news manager that tracks any online source you choose and bundles it into an easy-to-digest reading experience. They worked on onboarding experience optimisation and user activation.
Feeder is a Stockholm-based company with a very global product. Their platform has over 700,000 registered users with the main user base in the USA - even more exciting than working on a local product.
Feeder's CTO and co-founder Erik Andersson describes feeder as "your email inbox but for news" – you can receive, sort, like, and filter all your favourite news and updates on one simple feed.
At the end of the week, students pitched their solutions to the Feeder team and got feedback on their ideas and how the onboarding flow can be improved. Let's take a closer look at what it's like to work on onboarding experience as a UX Design student.
What was it about?
Students got access to the Feeder platform to analyse its existing user experience and understand key problems to solve. In short, there is a huge opportunity and potential to increase the activation of users – which will lead to more customers throughout the whole funnel. The student task was to look at Feeder's user onboarding experience on desktop with the specific aim to increase activation and achieve these goals:
Challenge 1: Optimise the current experience with a focus on user activation.
Challenge 2: Understand how current metrics of onboarding perform and what the other areas are that could be improved.
Challenge 3: Build a growth design case and pitch how design decisions can increase metrics.
Which skills the students got to practice?
✔️ Interaction Design
✔️ Funnel Optimisation
✔️ Data-driven Design
✔️ Task Analysis and User Flows
✔️ Onboarding User Experience
✔️ Pitching your idea
Outcomes
Students have developed multiple solutions for improving the onboarding experience on desktop and how the current experience could be decluttered, have better UX copy, and better way to present key features of the product without overwhelming the user first-time interaction.
Students have connected real data and metrics with interaction design and realised the power of optimised conversion-driven experiences.
Students have applied UX psychology principles when designing experiences: how to create a first impression and how to optimise for cognitive load in a user experience.
Students pitched their solutions and defended their decisions and design choices.
How did the students like the project?
The ability to apply newly acquired skills to the real world is incredibly empowering. Imposter syndrome often plagues individuals when they embark on learning nd career change, but experiences like these serve as undeniable evidence of their capabilities in utilizing their knowledge. Our students enjoyed it a lot.
"Initially, I had a hard time getting into it as I had a hard time empathising with the intended users of Feeder, but when I started digging deeper I found ways to make it make sense to me! I've thoroughly enjoyed the process this week and truly feel ready for the challenges of real-life UX work. It was a really awesome experience to be able to get myself hyped up on a product I initially struggled with, it feels promising for the future."
"After this week, I have gotten a better understanding of the importance of not only user empathy but business empathy."
"First, this week's assignment was so much fun. To get to work with Feeder - a global product - was inspiring! A real UX job! We focused on coming up with the solutions, designing them and putting together a clear and focused pitch"
"What I liked the most is looking at data in a new way and how that might affect certain design decisions. Very helpful for me to use in my new role as a UX designer"
Feedback from Feeder
"It was great to see what Technigo's UX students had done with their project to improve Feeder's onboarding. During the demo, we realised how useful it is to have a group of fresh eyes study our product. The students' energy gave us such a boost. We gained from the experience a lot of nuggets of possible improvements that we could make, and also inspiration to continue being curious about our product" - Erik Andersson, Co-founder @ Feeder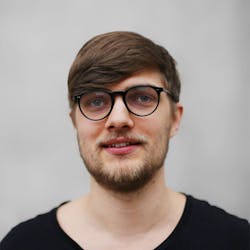 Overall, this collaboration turned out really fun and successful. The students were able to apply their newly acquired skills to a real-world case with a client and receive feedback from a team of professionals. Meanwhile, Feeder was able to gain valuable insights and improvements for its platform while supporting future UX designers.
Are you considering a career in UX Design? Apply for our next UX Design Boot Camp class!